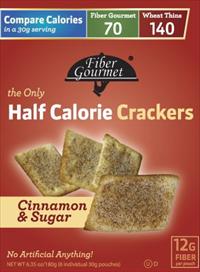 Fiber Gourmet gives you the best of both worlds: a low calorie cracker that also doubles as a low carb snack!
People often figure that their are either low calorie or low carb dieters. But in fact, you can also look to cut calories on a low carb diet and speed up your weight loss even faster. Dr. Atkins himself always admitted that low calorie diets do work — the problem with them is that you're always starving while you are on them, and being hungry means that the diet is more destined to fail.
That being said, if you can manage your low car diet by taking in less calories, it will only help you lose weight. And Fiber Gourmet Half Calorie Crackers can most definitely help you.
From FiberGourmet, "Our original wheat crackers features half the calories and ten times the fiber of standard crackers. They have a delicate wheat flavor with a hint of honey, and a light dusting of salt. Excellent for dipping, and really small sandwiches."
Not bad, huh? The combination of light honey flavor with a hint of salt makes for an amazing treat. And considering that they come in three varieties — original, everything, and cinnamon/sugar — there really is something for everyone out there who is on a diet who is craving a crunchy snack.
You're probably wondering about the nutritionals by this point. Here they are: 10g net carbs per serving, 70 calories per serving, 4g protein, and Diet Count: 1/Diet Count Plus: 2.
Are you ready to try Fiber Gourmet Half Calorie Crackers? We have all three varieties in stock at Linda's Diet Delites! Take a look!