Nutrition, Ingredients, Details
---
---
Nutritional Facts
Serving Size:
1 slice (1oz.)
Servings Per Container:
14
Amount Per Serving
Kosher Certification:
Net Weight: 14oz.
GTIN: 0628586651029
Additional Notes: Non-GMO
Storage: Use/Freeze by package date. Once opened, refrigerate 2 weeks
Package Size: 16oz.
Case Size: 6


Ingredients: wheat protein isolate, vital wheat gluten, oat fiber, modified wheat starch, flaxseed meal, olive oil, chicory root, yeast, cinnamon, salt, stevia, apple cider vinegar.
Product Description
ThinSlim Foods Love-The-Taste Breads are the healthy lifestylers solution to sandwiches and our personal favorite, toast.
Don't forget to checkout the full ThinSlim Foods product line here:
ThinSlim Foods
. Including bread, bagels, muffins, brownies, and more.
Tried. Tested. True.
There is a reason ThinSlim Foods Bread is the #1 selling Low Carb Bread on Google Shopping and Amazon.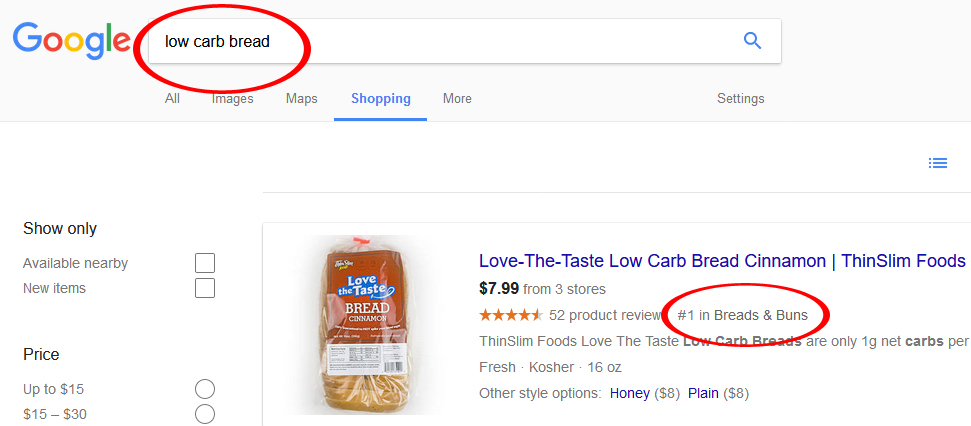 Why a diet bread?
Traditionally, breads have been made very large, very dense, very high in calories(100+) and very high in carbohydrates (15-30) through the use of fast digesting white flour as the main ingredient. This makes them a very poor choice for healthy lifestylers.
How are these different?
The Love-The-Taste Bread has only 45 calories and 0g of net carbs per slice.
The ingredients used digest significantly more slowly which means you stay satiated longer and your body doesn't turn the excess sugar into fat. This is very evident by the fact that of the 8g of total carbohydrates per slice, 7g of it is fiber.
I'm scared to waste my money trying them, how do they taste?
They wouldn't be called Love-The-Taste if they were awful.
In fact, in our retail store we let customers taste the product right out of the fridge without even toasting and 90% of them enjoy it enough to buy them.
If you are really on the fence, don't forget we offer a
Taste Guarantee
on all ThinSlim Foods products applicable to one unit of each item.
Which flavor is best?
That is really up to you and your taste buds. We offer the plain for those who like plain, the cinnamon for those who want something sweet, and the rye for those who like some seeds.
I can find low calorie or reduced carb breads locally, why get these?
Select supermarkets are now starting to offer a wider selection of low calorie breads, but make sure to do your homework and compare the nutritionals ounce per ounce - those low calorie breads might just be low calorie because they are super small.
More importantly, no supermarket breads are as low in carbohydrates as the ThinSlim Foods Bread.
This is important even for people following Weight Watchers because a diet full of more fiber, and healthier types of carbohydrate sources will be more successful.
Plus, Weight Watchers Breads have a Diet Count Plus value of 2, while ThinSlim Foods Love-The-Taste Breads have a Diet Count Plus value of 1.
Nutritional Lab Testing:
The nutritional information for this product has been independently lab tested.
Shipping
We offer free shipping on orders over $100 in the continental US.
There is a shipping estimator on the shopping cart page for both guests and registered customers.
Shipping cost is based on weight, distance, and carrier (Fedex or USPS.) Most shipping is ~$7-12.
Orders typically ship within the processing timeframe indicated in the header of the website and arrive in 2-5 days.
For full shipping info click here:
Shipping Info
Customers also purchased
What People Are Posting About #lindasdietdelites on Instagram!