Nutrition, Ingredients, Details
---
---
Nutritional Facts
Serving Size:
2.5 oz(70g)
Servings Per Container:
1
Amount Per Serving
Total Carbohydrates:
5.5 g
Kosher Certification: CRC OU Kosher
Net Weight: 2.5 oz(70g)
GTIN: 689076464383
Additional Notes:
Storage: Refrigerate till expiration date.
Package Size: 2.5oz.
Case Size: 1


Ingredients: NON FAT CREAM CHEESE, FARMER CHEESE, EGG WHITES, SPLENDA, CORN STARCH, VANILLA EXTRACT, LEMON JUICE AND PURE COCOA POWDER.
Product Description
Say Cheese Mini Cheesecake is an individually portioned diet cheesecake in marble flavor, chocolate flavor, or cappuccino flavor.
A tempting guilt free indulgence of creamy cheese cake in a variety of blissful flavors packaged in an elegant box.
UNWRAP - INDULGE - ENJOY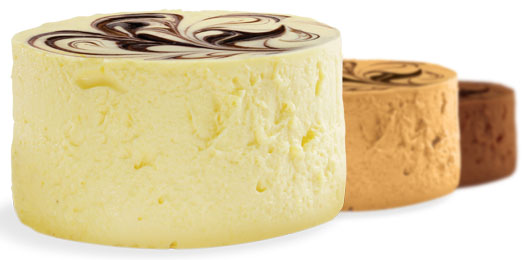 "Our creamy cheese cakes are made in small batches from the finest and freshest ingredients. Envisioned by our founders, then developed by professional chefs.
Our cakes are nutritionally sound, gluten free, reduced fat and portion controlled. They contain as much protein as an average low fat yogurt, less than half the carbs, and significantly less calories."
Shipping
We offer free shipping on orders over $100 in the continental US.
There is a shipping estimator on the shopping cart page for both guests and registered customers.
Shipping cost is based on weight, distance, and carrier (Fedex or USPS.) Most shipping is ~$7-12.
Orders typically ship within the processing timeframe indicated in the header of the website and arrive in 2-5 days.
For full shipping info click here:
Shipping Info
Customers also purchased
What People Are Posting About #lindasdietdelites on Instagram!