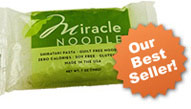 Anyone on a low carb diet knows that pasta is a no-no, and many of the low carb pastas so so unpalatable that they just aren't worth it. But these Fettuccine Miracle Noodles have an amazing texture and are zero carbs!
Miracle Noodles doesn't use the term "miracle" lightly; their low carb pasta products are miraculously delicious, especially given the fact that they have zero net carbs! In addition to being zero carb, they are also zero calorie and zero glycemic index — made only from naturally water soluble fiber called Glucomannan, with no fat, sugar, or starch.
In addition to being incredibly diet-friendly — have shown beneficial effects backed by medical studies for Type II Diabetes, Constipation, Obesity, and Cholesterol — they are quite tasty and easily absorb the flavors of any soup, dish, or sauce. And because they are are instant and come in a variety of styles, you can eat them for lunch or dinner.
While we are featuring the fettuccine Miracle Noodles in this article, we also carry other varieties of Miracle Noodles low carb pasta products as well, such as angel hair and black angel hair. Take a look!