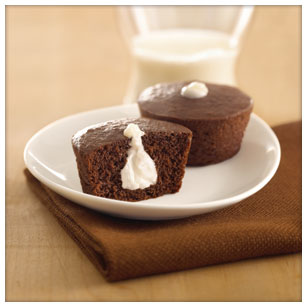 Philadelphia is known for a lot of things: the birthplace of American independence, a sense of irony for being "The City of Brotherly Love," and perhaps most of all, a comfort food haven. The famous Philly cheesesteak, hoagies, world-class pizza, and the "black and white" milkshake are all quintessential flavors, as is a long-standing treat: Tastykakes. If you've ever been to Philly, you've probably had Tastykakes. And once you've had them, you realize how special they are. Tastykake offers a wide range of freshly-baked snack cakes — similar to Hostess products, but not nearly as mass produced.
Tastykakes enjoy such a cult following in Philadelphia that Philly expats actually have them shipped out to them wherever they happaned to have relocated. They are that seriously good!
The thing is, if you're on a diet, Tastykakes are completely off the menu. The recipe for a good Tastykake is plenty of indulgent sugar and mondo carbs — that is, until now!
The Tastykake Sugar Free Cupcakes are a sugar free variant of a classic snack cake design: a decadent chocolate cupcake with a creme middle.
What is so genius about Tastykake Sugar Free Cupcakes is that they manage to give you a moist crumb and chocolately cake, as well as a sweet cream filling with no harsh aftertaste. And at only 5 grams of carbs a serviing, you get a lotta Tastykake for your carb bucks.
Ready to give Tastykake Sugar Free Cupcakes a try? We have them at Linda's Diet Delites! Take a look!