For many of us, one of the hardest aspects of the low carb diet is giving up the potato. Sure, you can replace it with great meats and cheese and a variety of vegetables that are safe for a low carb diet. But the potato tastes great cooked so many ways, it can seem virtually impossible to replace it with something equally as tasty. It is possible, however, to learn to love substitutions for the potato and maintain your low carb diet, achieving better health, weight loss, lower blood sugar, and a variety of additional benefits. Read on for some ideas: 
Alternative root vegetables – For some, there are root vegetables that can act as a tasty substitute for the potato, while still allowing you to maintain your low carb diet. Turnips, celery root, and rutabaga. Although all of these root vegetables have a longer cook time than the potato, they can be cooked in a variety of ways. You can slice them and fry them, bake them as you would a potato, or bake them as you would scalloped potatoes.
Cauliflower – Cauliflower is one of the go-to replacements for potatoes for many low carb dieters. Although it doesn't have the same texture, it is easy to mash and can be used as a mashed potato or potato salad replacement. When using them as a low carb mashed potato substitute, add in bacon and cheese to get a great baked potato flavor.
Store-bought replacements – Although many people like root vegetables or cauliflower as a potato substitute, if it just doesn't seem to satisfy your craving for potatoes, you still have options. There are many store-bought low carb potato item replacements available on the market to choose from. You can find low carb potato chip substitutions and even low carb instant mashed potatoes.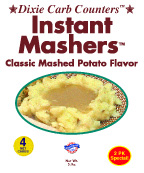 Whatever type of substitution you choose to take the place of potatoes while on your low carb diet, keep in mind that you will likely develop a taste for the food over time. In the beginning, mashed cauliflower may taste nothing like the mashed potatoes you know and love. After weeks or even months of not eating a real potato, however, the substitution will begin to taste much better and offer a great low carb alternative to potatoes.
Thanks for reading our blog! For great low carb potato substitutions and other foods, visit us at Linda's Diet Delites!