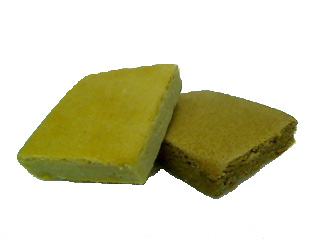 The sweet, moist, dense taste and texture of a freshly-baked muffin now comes in a low calorie, low fat, and low carb square. Is ThinSlim foods' new square diet heaven?
When it comes to desserts and snacking, tt's not too often that you can triangulate low carb, low cal, and low fat together with great taste and texture. In an almost mystical new turn, however, ThinSlim has manage to create the ultimate diet dessert with their new squares.
The seemingly nondescript name is in many ways perfectly-suited for these new desserts, since they really cannot be co-opted by any one school of diet: the low carbers will love them because each one is just 2 grams of net carbs. The low cal people will be blown away by the fact that they are only 40 calories each. And low fat gurus will appreciate the mere 1 gram of fat per serving.
But all dieters will appreciate their taste.
Snack cake  manufacturers like Hostess, Little Debbie, Bimbo, and even the Philly-based Tastykake have all dreamed of crafting a diet square like this. All of them have tried, but the taste and texture never live up to expectation. ThinSlim's new square, however, seems to capture everything you'd want in a diet snack cake while still preserving the fundamentals of whatever diet you subscribe to.
Currently, the ThinSlim squares come in three flavors, almond, banana, and peanut butter. They are most definitely worth a try, and are 100% guaranteed by ThinSlim not to raise blood glucose levels, citing that all of the nutritionals have been lab tested and verified.
Take a look at Linda's Diet Delites' selection of ThinSlim squares here!