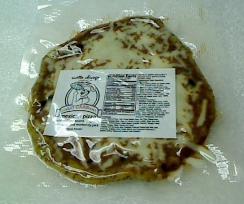 Lunch can be a tricky meal n a low carb diet. Fortunately, CarLO CARBiano Low Carb Pizzas are a tasty, satisfying, easy, low carb solution for a quick lunch anytime!
Last week, we outlined a solution for assembling an incredibly tasty low carb pizza in another blog article. If you love coming up with low carb solutions to typically high carb dishes, then you should find it reassuring to know that all of the ingredients needed to make a tasty low carb pizza are available on the market today.
But what if you cannot be bothered to prepare a low carb pizza from scratch?
That's where CarLO CARBiano Low Carb Pizzas come in. While CarLO CARBiano makes a variety of tasty Low Carb Pizza crusts, they also make ready-to-eat low carb frozen pizzas as well. And like their crusts, they offer three wonderful varieties: four cheese, pepperoni, and Mexican style.
In spite of the fact that CarLO CARBiano Low Carb Pizzas are packed with flavor, they are also ideal for the low carb dieter as well. At 4g of net carbs per serving, you really can't beat it as a quick, tasty lunch option. CarLO CARBiano accomplishes this by way of packing its low carb pizzas with plenty of fiber to offset the carb count.
It's a perfect combination of taste and net carbs!
Thanks for reading our article! Did you know that Linda's Diet Delites now carries CarLO CARBiano low carb pizzas? Take a look!