There is something inescapingly funny about the term "meat stick." Lewd notions aside, there is something primal about the idea of "meat on a stick," as it conjures up early man gnawing a fire-charred leg 'o beast. Interestingly enough, primal diets — which are essentially Atkins-esque — are becoming evermore popular, and as a result, these new "primal dieters" are in search of new, tasty ways to get their meat on.
While the classic Slim Jim has led the way in terms of meat snacks for decades, healthy dieters are looking for a meat-based low carb snack that is a bit more dialed in to their "primal" sensitivities. Enter these new meat sticks:
First up is the Sci-Fit Fat Free Beef Stix, which essentially offers a higher-quality alternative to the Slim Jim. The Sci-Fit Fat Free Beef Stix come in both Teriyaki and Black Pepper varieties, are truly fat free and low carb — each stick is just 1 gram of carbs. In addition, the ingredients list thankfully doesn't include any MSG, a common ingredient in Slim Jims and other mass produced meat sticks.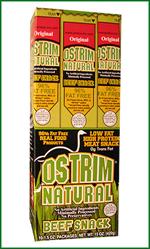 Ostrim also makes a nice Natural Beef Snack as well. Theirs is a high-protein meat stick that are very low in fat and USDA inspected, guaranteeing a true and correct nutritional profile of quality and wholesomeness. Their ingredients are very readable, including just Beef, Water, Sea Salt, Corn Starch, Natural Spices, Turbinado Sugar, Dehydrated Garlic, Natural Flavorings (Celery Powder), and Lactic Acid Starter Culture. Ostrim offers several great flavors, such as its original flavor, spicy pepper, and teriyaki.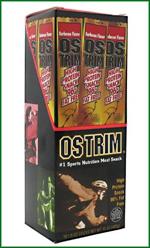 If you want to take a walk on the wild side and try a meat stick that is not beef, then how about ostrich? Ostrim Meat Sticks are incredible great-tasting ostrich meat sticks, and offer the same level of nutrition and low carb snacking goodness. The Ostrim MEat Sticks comes in a variety of great flavors as well, such as barbeque, natural, pepper, and teriyaki.
Ready to order some of these tasty beef and meat sticks for a low carb snack? Linda's Diet Delites carry all of them! Take a look at the Sci-Fit Fat Free Beef Stix, Ostrim Natural Beef Snack, and Ostrim Meat Sticks today!