Sugar free and low carb candy can be hard to find at the local supermarket. Fortunately for you, we're keeping on the leading edge of the best low carb and sugar free candies.
From the supermarket's perspective, there isn't much of a local market for sugar free candy — as most people prefer the sugary stuff. But when you add up all of the people in the U.S. who want or need sugar free candy, it adds up to millions of dieters, diabetics, and anti-sugar people. That's where online stores like ours come in.
Since we play to the low carb and sugar free niche, we always keep our eyes out for new products that are really tasty, really high-quality, and really hard to find. Lately, we've found the following sugar free candy that I think you will love:
Asher's Chocolates Sugar Free Candy Bars
Chocolate is one of the best bets when it comes to sugar free candy. The rich, underlying bitterness of cocoa helps to counteract any lingering aftertaste, and works well with popular sugar alcohols. Asher's Chocolates Sugar Free Candy Bars have taken the use of chocolate in sugar free candies to a new level. At just 1 gram of net carbs per serving, it's amazing low carb and sugar free dessert for those craving chocolate.
Baskin Robbins Sugar Free Hard Candy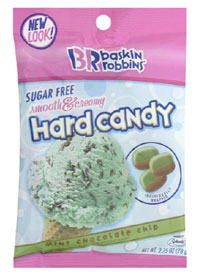 When you think of Baskin Robbins, you think ice cream, not candy. But in spite of the fact that hard candy is somewhat of a new foray for Baskin Robbins, they have been creating sugar free ice cream for a long time now, and have a pretty strong history of crafting tasty sugar free desserts. Their new Baskin Robbins Sugar Free Hard Candy really delivers on taste and carb count: From Baskin Robbins, "Creamy, smooth and delicious! Baskin Robbins Smooth and Creamy Sugar Free Hard Candy brings you the fun of your favorite ice cream treat. Made with real cream and sweetened with Splenda, these mouth watering hard candies are the best way to satisfy any ice cream cravings. Individually wrapped and available in a variety of your favorite Baskin Robbins ice cream flavors."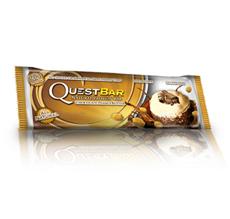 Quest Nutrition All Natural Quest Bar
But if your idea of a great sugar free candy is something more earthy and less decadent, there are plenty of other choices out there as well. Even granola bars can have tons of refined sugar in them, in addition to the carbs that come with the use of grains, nuts, and dried fruits. But the Quest Nutrition All Natural Quest Bar offers some great, earthy taste with the nutritionals you're looking for.
rom Quest Nutrition, "QuestBars are the perfect nutrition bar for anyone looking to get top quality protein while dropping some carbs from their diet. They're as delicious and convenient as a candy bar, while maintaining all of the nutrition of a carefully prepared meal that's packed with fiber to make you feel full and to help with digestion and weight loss."
The All Natural Quest Bars are different from the standard quest bars in that all ingredients used are all natural and the sweeteners used are only erythritol, lohanguo, and stevia (no sucralose).
Best of all, each bar is only 3 grams of net carbs. You can't beat that!
Be sure to take a look at our wide selection of sugar free candy on the Linda's Diet Delites website. Thanks for reading!