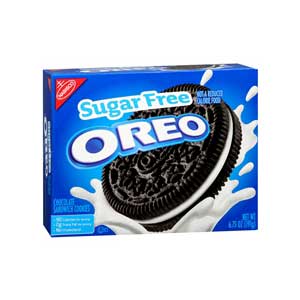 Think that because you're on a low carb or sugar free diet that your most favorite cookies are off limits? Think again! Take a look at these two new sugar free cookie varieties that are really familiar and tasty.
When I was a kid I remember my first foray into tasting a diet cookie. Because my Mother suffered from hypoglycemia, she was basically on a sugar free diet back when the mainstream population knew about Atkins and low carb dieting. The cookies that she bought were devoid of taste and goodness — it was like eating a piece of particle board.
In spite of the fact that low carb and sugar free foods have made tremendous strides over the past thirty years, many low carb and sugar free cookies on the market today still fail to deliver on anything that even approximates the taste and texture of a real cookie. Often times, what you get in its place is dense, brittle, and lacking in sweetness.
Fortunately for the low carb dieter, some new sugar free cookies have come onto the market that have really revolutionized the sugar free cookie scene, and is bound to grab peoples' attention.
First up are the new sugar free Oreos. Yes, you are reading that correctly: Nabisco has jumped into the sugar free cookie scene with a sugar free version of perhaps the most iconic cookie in America. These Oreos are surprisingly close to the original, and they give you that same combination of dark chocolate cookie with cream filling — a perfect balance of "wet" and "dry" textures with an amazing taste. This is comfort dessert snacking at it best, and at just 6 grams of net carbs for two cookies, it can be a really satisfying treat after a meal.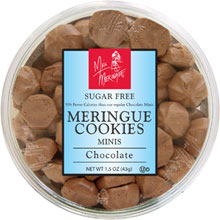 Plenty of low carb and sugar free food manufacturers have sought to replicate the Oreo, but none have done it as successfully as Nabisco itself. You really gotta try these!
Of course, if you want to go in a completely opposite direction to the Oreo, there is also a new sugar free cookie brand to check out — Miss Meringue Sugar Free Mini Meringues. Meringue cookies have always been a good low carb and sugar free option for dieters, since they are essentially made mostly out of egg whites and air. Because of their airy texture, the sugar used is more suspended, meaning that the aftertaste effect is lessened when using articifical sweeteners.
Miss Meringue Sugar Free Mini Meringues benefit from these facts, and these cookies offer a great sugar free cookie option. They come in both chocolate and vanilla, and a serving of 25 mini cookies are zero carbs!
If you're ready to get your cookie on, these two new sugar free cookies are the perfect choice.
Thank you for reading our article! Ready to pick up some sugar free Oreos or Miss Meringue Sugar Free Mini Meringues? We've got 'em both at Linda's Diet Delites. Take a look!