If you begin a strict low carb diet, such as Atkins, then it is important to understand that the beginning of the diet will be the worst part. As most diets do, low carb diets start out more strict in the beginning and then ease up on restrictions over time. When the diet is low carb, this typically means that you will put your body into something called "ketosis" in the beginning. This does have certain side effects (aside from tremendous and quick weight loss). Read on to learn about ketosis when on a low carb diet, what it is, and how to prepare yourself to get through the first few hard days.
What is Ketosis?

Ketosis is a condition that occurs when you limit your carb intake to a very small amount daily. When you are on a strict low carb diet, such as Atkins, the first five days to a week are the ones in which carbs are so limited that the liver doesn't have enough stored glucose and the body begins to burn its own fat. During this short time on your strict low carb diet, you will lose more weight than with the beginning of most diets, and the majority of this weight will be actual fat lost. Once you get through this ketosis stage of your low carb diet, you will get to raise your daily carbohydrate intake allowance to a slightly higher number, which will help you continue to lose weight, but at a slower rate and without the side effects of ketosis.
The Side Effects of Ketosis on a Low-Carb Diet

As with anything different you do to your body, there are potential side effects of ketosis when on a strict low carb diet. Just a few that you may experience can include bad breath, gas, and dizziness or weakness. In addition, some people experience more mood swings (particularly being generally in a bad mood). There is also the possibility of ketosis becoming ketoacidosis, which can cause long-term kidney damage, but this typically occurs only in those with Type 1 Diabetes (just another reason to always consult a physician before starting a new diet). The body only needs to be in ketosis for the limited time as Atkins and other low carb diets suggest to achieve lasting results, and the lasting effects of a long-term ketosis diet are not fully known. If ketosis is limited, the side effects are only temporary and are not harmful. If you choose to maintain ketosis for a longer period of time, it is best to consult with your physician for possible side effects that might pertain to your particular situation.
Dealing with the Side Effects of Ketosis
One of the best ways to handle the side effects of ketosis when you are on a low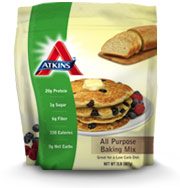 carb diet is to know in advance what to expect. By knowing that gas can be a side effect, you can invest in the necessary medications in advance. Likewise, you can keep mouthwash and fresh breath spray on hand, as well as potentially warn family members that during this ketosis phase of your low carb diet, your mood might not be the best. Keep in mind that these side effects only occur for a short time while in ketosis, and the best side effect is that you will experience true lasting weight loss during this time on your low carb diet.
Thanks for reading our article! If you are ready to stock up low carb foods to get help get you through the ketosis stage of your low carb diet, visit Linda's Diet Delites to find exactly what you need!