In spite of decades of negative and misleading press, the low carb diet continues to be the most effective weight loss diet out there and the best way to keep to your New Year's resolution. But don't expect to find low carb food options in your local supermarket.
Is weight loss your New Year's Resolution?
If you answered "yes," then you're not alone: losing weight has long since been a top five New Year's resolution for Americans. And because a resolution is all about making a long-term change, then a low carb diet is the perfect solution. As Atkins argued in his own Diet Revolution books, cutting carbs in your diet is not a temporary solution for losing weight; it is a lifestyle change that you have to commit to for the rest of your life.
While it is true that adopting a low carb diet will quickly allow you to lose weight (some people lose as many as 5 pounds a week in the early stages of the diet), it is equally true that reintroducing carbs back into your diet once you've lost all the weight you're looking to lose will send you back up the scale just as quickly as you dropped it.
Why?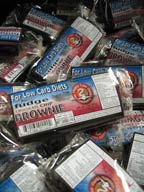 The answer is simple: the vast majority of people in this world are carb sensitive. This means that our bodies cannot handle the level of sugar and carbohydrates that the average American consumes from day to day. Just to give you an idea: Atkins recommends that most people should not consume more than 40 grabs of carbohydrates a day. However, the typical plate of spaghetti with tomato sauce will easily run you above 50 grams of net carbs – and that doesn't include the big hunk of Italian bread and glass of red wine you have with it!
Very quickly it becomes clear why nearly two-thirds of Americans are overweight; typically, we consume three to four times the amount of carbs in a day that we should.
It is for this reason that the low carb diet makes so much sense as a viable New Year's weight loss resolution.
Craving Carbs: How a Low Carb Store Can Put Carbohydrates Back in Your Diet
There is now a wide range of low carb diets that you can follow, all of which offer different programs for cutting carbohydrates. If you're planning on a New Year's weight loss resolution that involves the Atkins approach, then say goodbye to bread, sweets, fruit, and most milk-based daily products. Even though Atkins lets you gorge on protein and fat, his Phase One encourages no more than 12 grams of net carbs per day.
Once you begin to progress on your new low carb lifestyle, however, you'll be able to add more carbs back into your diet, gram by gram. If you're planning on poking around your local supermarket for low carb food, don't get your hopes up: low carb food products are few and far between in a standard grocery store.
The best place to source low carb food is online through a low carb store. Thanks to e-commerce and fast, automated order fulfilment, an online low carb store can easily supplement your trip to the supermarket with low carb bread, desserts, baking mix, and other products that are hard to find in traditional grocery stores.
The foods you buy in a low carb store online are essential, not just for the weight loss portion of your low carb diet, but also for your long-term commitment to cutting carbs for good.
Thanks for reading our article! If you're ready to start your New Year's resolution with great low carb food products, be sure to check out our online low carb store. We offer hundreds of low carb food options that will make your diet last.
For access to the latest updates from Linda's Diet Delites, including store discounts, new articles, and more, visit our homepage and join our free newsletter.

Michael Nace is a low carb blogger for Linda's Diet Delites, a leading online diet food store, specializing in a wide range of low carb food products.