Nugo Nutrition Dark Chocolate Chip bars are now available. From Nugo, "Find out what decadence tastes like. This Chocolate Chip bar covered in Dark Chocolate will curb all of those chocolate cravings and leave you wanting more. NuGo Dark is the first protein bar of its kind — low-fat, vegan, OU Pareve, and covered in delicious, antioxidant-rich dark chocolate.
REAL Dark Chocolate
High Protein
Low Fat
Vegan/Dairy Free
Pareve
Certified Kosher
Antioxidant Rich
Healthy for the Whole Family"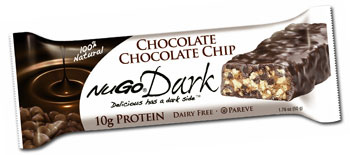 Check out our full selection of healthy bars on our website!