We've been working on new in-house products that we think may interest you and this is the first of many.
---
LindasDietDelites.com
Low Carb Pasta!
The LindasDietDelites.com Low Carb Pasta is a delicious gluten free, low carb, high protein pasta that comes with each serving individually packaged.
This pasta is soy free, gluten free, and not shirataki based.
The protein flour blend used for this extremely high protein pasta is pea protein isolate. Pea Protein Isolate has started appearing in lots of healthy foods recently because it is a higher quality alternative to soy – fewer allergen issues, no estrogen concerns, and vegan friendly.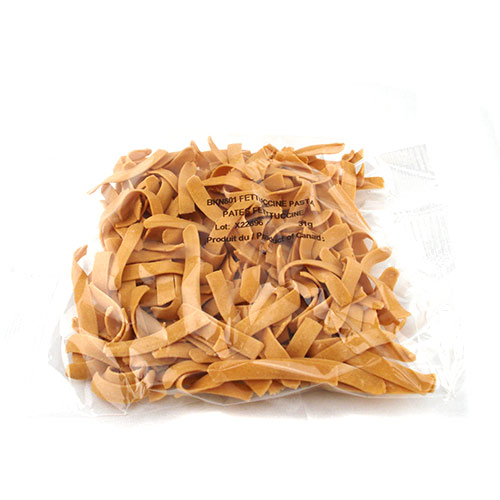 Why we love it:
– individually wrapped portions for portion control
– very high protein content – 20grams
– extremely low carb – 3g net carbs
– low SmartDiet Count – 2
– gluten free (this is rare for low carb pasta)
– soy free (low carb pastas often use cheap soy)
– gorgeous packaging
Things we don't love as much:
– high calorie count due to protein content (so depending on your goal / eating style this may not be a concern)
– small serving size of nearly 1/2 the size of others we carry – remember to compare products ounce for ounce – which results in calorie, carb, and diet counts that are ultimately significantly higher if consuming similar size total portions (2 inner packages instead of 1)
– high product price (2.5x) even compared to our other premium low carb pastas
– pasta comes in short pieces rather than long traditional pieces
All that being said, I think it is worth trying out. Our most popular pasta and the one we recommend the most is the ThinSlim Foods Impastable, but the LindasDietDelites.com Pasta has additional benefits such as being gluten free and similar in carbs, so if you want to add some variety to your pasta it is worth considering. (How's that for an honest summary!)