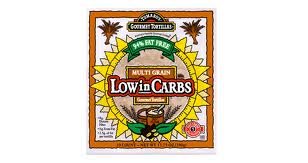 There are plenty of low carb tortillas on the market today. Unfortunately, not many of them make the grade when it comes to taste. Usually there's a sliding scale: the lower in carbs, the lower the taste. If you want the authentic Mexican flavor and texture of a good tortilla, you're going to have to be willing to ingest some serious carbage.
Tumaro's Gourmet Tortillas are overturning this paradigm, however, since they manage to craft a really tasty tortilla that is low in net carbs. At just 4 grams of net carbs, you can incorporate one or two of these tortillas into your next Mexican meal — or use one for a wrap — without feeling like you've gone overboard. Taste-wise, Tumaro captures that moist, rich texture of a flour tortilla by using oat fiber, whole wheat flour, soy bean flour, wheat gluten, and canola oil to create a really authentic tortilla.
Tumaro's delicious bread replacement products are ideal for wraps, burritos, quesadillas, fajitas, tacos, and enchiladas. Low-in-Carbs tortillas are cholesterol-free, trans fat free, and delicious!
Linda's Diet Delites carries Tumaro's Gourmet Low in Carbs Tortillas! Take a look!